Sorcerers are ranged magical casters in the game with great variety of AoE skills on their use.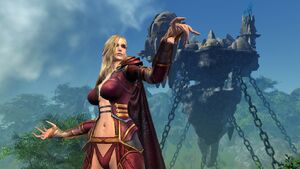 Play Style
Edit
Sorcerers is one of the four classes available in the game. Using magical attacks to deal lots of damage upon their foes, often from a distance, the sorcerer is often out of harm's way especially when fighting alongside others. They have the ability to paralyze their enemies, which will provide useful in crowded situations, and have a considerably high DPS, compared to some other classes. 
Base Stats

Name

Amount
Strenght
9
Constitution
15

Ferocity

12
Intelligence
24
Focus
12
Charisma
21
Dragon Affinity
24
Progression
Edit
Sorcerers will advance with elemental skill which mainly focus on paralyzing their enemies or buffing themselves, or then with the "Dragon words", which will increase the sorcerers combat skills.
Sorcerers use staffs as their weapons and protects themselves with cloth armor.
Gameplay video of Sorcerer skills:
Edit
Ad blocker interference detected!
Wikia is a free-to-use site that makes money from advertising. We have a modified experience for viewers using ad blockers

Wikia is not accessible if you've made further modifications. Remove the custom ad blocker rule(s) and the page will load as expected.