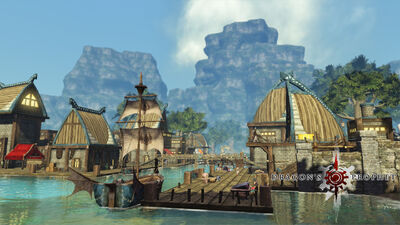 Levels: 1~30

Satuma, located in Mangard, which forms the western part of Auratia, is a large plain filled with lakes and rivers and surrounded by high mountains. Water is an important element in the life of Satuma, with many villages populated by fishermen. During the First Dragon War, numerous battles were fought in Satuma, each changing the wide plains a bit more, eventually turning it into a massive natural lake where all the main rivers in Mangard meet. Notable villages include Hunak, which is located just above the Kylar Abyss, the point where all the rivers in Satuma meet. To the east of Hunak lies an ancient and lush forest, the Ayanah Forest, which is the main source of construction materials in the area but also shelters fierce and terrible Forest Giants. Another source of danger is the ruins of City of Deyarka, now known as the Wolfman Stronghold. Once a fortified city built by the famous evil General Deyarka, it was badly damaged during the First Dragon War and is now home to a dangerous species of sub-humans, the Wolfmen. In contrast, all players will love visiting the bustling, colorful city of Tahkar in northern Satuma, a picturesque town famous for its hospitality, colorful signs and delicious food.
Ad blocker interference detected!
Wikia is a free-to-use site that makes money from advertising. We have a modified experience for viewers using ad blockers

Wikia is not accessible if you've made further modifications. Remove the custom ad blocker rule(s) and the page will load as expected.