For a compete list, pres this link Paragon Dragons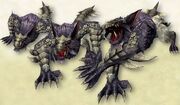 This is the four-legged dragon. They usually live on the flat and open terrain. They have well balance between strength, stamina and speed, They will attack you with their very strong front feet and with their giant front teeth. It is a dragon that is located relatively high in the food chain.
Skills: Outbreak and Fragmentation
Ad blocker interference detected!
Wikia is a free-to-use site that makes money from advertising. We have a modified experience for viewers using ad blockers

Wikia is not accessible if you've made further modifications. Remove the custom ad blocker rule(s) and the page will load as expected.